Special Issue, FOCUS
HEATHER HANCOCK, Chair, FSA
We are pleased to have this opportunity to interview Ms. Hancock, appointed Chair of FSA in 2016 and re-appointed in 2019.
Heather Hancock – Chair of the Food Standards Agency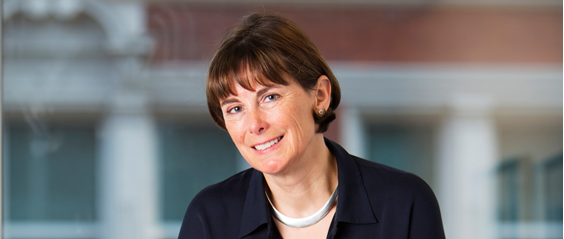 Heather Hancock has a number of other non-executive roles. She is a NED for Rural Solutions Ltd and a Trustee of the Chatsworth Settlement Trust. She is a Deputy Lord Lieutenant of North Yorkshire. 
She was a Managing Partner of Deloitte in the UK and Switzerland from 2008-2014, and was part of Deloitte's global leadership from 2010, having joined the firm to lead part of the strategy business in the early 2000s. Prior to her executive role at Deloitte, Heather served as an elected member of the firm's governance Board. 
Heather is a non-executive Director of Rural Solutions Ltd, an advisory business specialising in rural planning, architecture and business services. This role is part-time and paid. 
Heather is a Trustee of the Chatsworth Settlement Trust. This role is unpaid. 
Heather and her husband are Directors of Amerdale Ltd, c/o PM&M, Greenbank Technology Park, Challenge Way, Blackburn, BB1 5QB. 
This is their family business, which focuses on real estate development and investment, and wider consultancy services. Amerdale owns the freehold of a public house in the Yorkshire Dales – this is tenanted.  Amerdale also owns or part-owns a range of commercial and residential companies and properties.  
Personally, and through their company Heather and her husband own just over 3500 acres of uplands/associated shooting rights. They have two tenanted farms, plus a number of smaller farming leases in place. Neither Mr or Mrs Hancock nor Amerdale Ltd actively farm at present. 
In 2013, Heather Hancock was awarded the LVO in the New Year Honours for her contribution to The Prince's Trust, where she was a Trustee for more than a decade and led a series of rural revival initiatives for HRH The Prince of Wales. 
Heather lives in North Yorkshire.
Interview Questions

1. I know there has been a lot of emphasis within FSA on bringing the food safety standards system up to date to protect consumers. during your time as Chair with the FSA board, where do you think FSA has been the most successful in advancing food safety?
For the majority of the time I've been heading the FSA, we've been focused on two major undertakings. First, preparing for the UK leaving the EU, where we have needed to create a stand-alone food safety regime to operate outside the European infrastructure we rely upon today. It's an impressive achievement to have established that new system in the time available, but I'm particularly proud that in doing so we have set new benchmarks for surveillance systems that predict likely food safety risks, and that our new approach will stand out for its levels of openness and transparency. More recently, I'd also highlight research into food allergies and intolerances, where we now know that the quality of life impact for consumers can be as high or higher than the microbiological risks in food that traditional are the focus for food safety regulation. We've made the commitment to see the UK as the best place in the world to be a food hypersensitive consumer, a huge advance in keeping people safe. A good practical example towards this goal is the work we've done – in partnership with food businesses, enforcement authorities and consumer interest groups – to improve food safety withdrawals and recalls system, through the Efficacy of Recalls and Withdrawals project. We published new guidance in March of this year to help food businesses carry out withdrawals and recalls with greater ease and effectiveness, explaining what the law requires and how to comply as well as including templates to ensure key information such as 'Point of Sale Alerts' to consumers are clear, eye catching and consistent in design.
And my third area of major advancement would be our long term programme to modernise the regulatory regime, where we want to see better targeting of risk, the use of trustworthy data to build better evidence on which to assess risk, and harnessing technology to make compliance and assurance easier and more effective. The FSA has built new foundations for this modernised approach, and the next two years will see them enable a smarter approach to tackling food safety and standards risks. Our ambition is to modernise the system for checking that our food is safe and what it says it is, and to build a system that is dynamic and flexible and can adapt as circumstances change and technology develops in the future.
The current system, which has been in place for around 30 years, has served us well but it relies, for the most part, on physical checks and interventions/inspections at each individual food establishment. For the UK to continue to be a strong, credible player in the global food economy, the regulatory regime needs to keep pace with the rapid changes taking place. We also need to make sure that local authorities, who are key to delivery both now and in the future, can operate effectively despite increasing financial pressures.
Key reforms include the roll out of a new online system for businesses to register with their local authority. This will transform the experience for businesses making it easier for them to get tailored advice and guidance that will enable them to get things right from the start. It will also give us a clearer picture of food businesses that are preparing, manufacturing and selling food which we need in preparation for EU exit.
We are also exploring how local authorities can use data and information collected by businesses themselves to provide assurance on how they are managing their food safety risks. This includes working with multi-site businesses and their primary authorities to test the use of Primary Authority national inspection strategies. This involves the primary authority taking responsibility for assessing compliance across the business and giving direction to other local authorities on where and how often proactive interventions should be undertaken at individual outlets. This will reduce the regulatory burden for the business and will free up resources of other local authorities enabling them to focus resource on poorly performing businesses.
Follow-on question: Where do you see an area that could use the most help in food safety, since the beginning of the "Regulating Our Future" program? What are some compliance strategies for food safety regulation in the program?
One of the areas we are concentrating on at the moment is the food standards element of the regulatory regime and where that needs to change. We're talking about controls in relation to the composition, chemical contamination, adulteration and labelling of food. This clearly links to our priorities for food allergies and intolerances, and we know that better surveillance, intelligence and monitoring of compliance with food standards will deliver significant improvements in consumer protection.
In early 2018 we established that there has been a decline in the effectiveness of the current approach to delivery of these controls. Our in-depth review gave us a better understanding of the changing approach being taken by local authorities, and the challenges faced as a result of a significant reduction in resources. Last December, my Board concluded that significant and radical change is needed to address some of the clear failings in the current delivery model.
This need for change is recognised and supported by both the local authority community and the food industry, and we are working together to design a robust and dynamic delivery model. This will mean that we will in future treat business fundamentally differently depending on their potential risk, and how we intervene to monitor and enforce compliance.
Key to achieving this will be three things. Firstly, developing an integrated approach across food regulation, as in certain circumstances we see the value of a combined assessment of both hygiene and standards compliance, such as for allergens, as part of a single intervention to achieve more efficient and effective public health protection outcomes. Secondly, developing an improved risk-assessment process for food standards interventions, which allows for the integration of an intelligence-based approach that will make the delivery model more dynamic in response to changing risks in the supply chain. Thirdly, improving the guidance available to regulators and the industry.
The success of these strategies will be evaluated next year when we ask local authority regulators to trial the new model to ensure any changes to the system meet our long-term strategic needs.
3. Follow-on question: Looking more at systems of compliance — as an independent food safety authority in the UK — what have you found to be the most effective methods of ensuring compliance to food safety standards along all stages of production?
From my perspective as Chair of the FSA, I would always say business culture is the key. Get the culture of a food business right, and then all the advice and support that we and local authorities can offer – like our Safer Food Better Business toolkit – is going to be respected, listened to and followed.
But aside from that, we are stressing the need to move away from the 'one size fits all' approach to assessing compliance. Not all businesses are the same, so our regulatory approach must be based on a more sophisticated and more data driven way of assessing risk and for determining the nature, frequency and intensity of controls. The work we are doing on Primary Authority national inspection strategies with multi-site businesses is a start to this and the findings of this work will help inform future policy development in this area.
We also want to explore how we can build further on the use of data and information from third party assurance schemes. We already provide earned recognition by means of a reduced inspection frequency for compliant members of FSA approved assurance schemes in the animal feed, primary production and dairy sectors.
4. Follow-on question: Looking at the problem of food fraud, how is the implementation of a food crime unit within FSA (NFCU) affecting rates of food fraud and authenticity?
The NFCU was initially set up as an intelligence function. In the last 12 months, we've expanded it to create a full investigative response, and we are on target to deliver Full Operational Capability for April 2020. We're measuring the impact of the NFCU against 4 key performance questions. How comprehensive is the NFCU's understanding of the food crime threat? How effective is the NFCU's response to the food crime threat? How effective is the NFCU at working with partners? How effectively does the NFCU manage resources? Your question presupposes that it's possible to put a figure on the amount of food fraud or authenticity crimes. But there is very limited evidence of the true extent of food crime and food fraud globally, and that's also true of this country. What we can show are successful prosecutions, a much deeper understanding of this area of criminal activity, and the specific expertise needed to address the threats. We also know that industry has a key role to play in the NFCU's success, and we urge anyone with concerns about possible criminality in food to share these with us – public safety has to be paramount.
5. As Chair of the FSA, a highly regarded national regulatory agency for food safety, I would imagine you're knee-deep in planning for a no-deal scenario in Brexit. How do you square this assignment with the need to mitigate industry concerns?
We had to build a complete domestic regime for food safety and standards outside the EU whatever the nature of the UK's departure. In practice, that meant whether we left with or without a deal, or the nature of any deal, was largely immaterial to the work the FSA has had to do to prepare for Exit. To all intents and purposes, we prepared for no-deal from the start so that there could be no risk to consumer protection or consumer confidence in relation to food safety. We've worked closely with industry throughout this period, and with colleagues in local authorities.
6. Follow-on question: Specifically, is FSA preparing for new modes of collaboration with EFSA respecting information sharing and compliance?
We are open to collaboration with risk assessment and regulatory agencies not just in Europe but worldwide. For example, we already:
• provide science expertise wherever we can in response to calls from the FAO/WHO joint expert consultations;
• have a scientific co-operation agreement with the New Zealand Ministry of Primary Industries; and
• are well advanced in discussions with US Food and Drug Administration on sharing our experience and building future collaborations on the use of blockchain in food systems and the application of predictive analytics.
7. Follow-on question: Similarly, do you foresee new modes of cooperation with China's State Administration of Market Supervision which now includes the former agencies, CFDA and AQSIQ? How about other third-country markets?
• The FSA already engages and collaborates with countries from around the world, firmly supporting wider Government commitments and helping to maintain the UK's leadership position in relation to food safety and standards. We have, already, shared experiences and knowledge with Chinese food safety agencies, and look forward to continuing to do so in future.
8. Follow-on question: In the hard Brexit scenario, one back-up discussed publicly is a trade agreement with the United States. Is there any anticipatory planning of such an eventuality within FSA and is there any joint planning now underway with FDA?
Defra and DIT take the lead on making trade agreements. FSA would of course provide expert technical input to any trade negotiating mandates to ensure the continued safety of food and feed on the UK market and maintain a high level of health protection for UK consumers.
FSA has a long standing relationship of engagement with the US on areas of mutual interest. Currently FSA is well advanced in discussions with the US Food and Drug Administration on sharing our experience and building future collaborations on the use of blockchain in food systems and the application of predictive analytics.
9. In China, reports indicate a concern over the two-track enforcement system in place, where evidently export items are subjec t to more intensive inspection and certification than domestic. Can any such finding be applied to FSA as well? Please explain.
We have one set of food standards to protect consumers and will continue to have one set of food standards for food produced here – and food from the UK is regarded as some of the safest in the world. Today, if UK businesses wish to export their food products to international markets, they sometimes are required to meet different or additional requirements set by the authorities in the importing country. Similarly, the EU expects its trading partners to meet EU rules or demonstrate equivalent outcomes. That's in the nature of international trade, and the FSA supports the work of Defra to access markets by approving establishments to export (except for China who currently approve establishments themselves) and putting in place a rigorous inspection regime to ensure that exporting establishments are meeting both domestic and export requirements. It is essential to understand that these steps are about food producers having access to other markets, they are definitely not about the FSA choosing to apply different standards to food for export. Food from the UK is safe and to be trusted.
10. Codex Alimentarius standards are critical to all national regulatory agencies. In your view, have market complexities resulting from the current trade wars, sanctions, and conflict regions created new challenges for joint problem solving and enforcement of standards between FSA and Codex?
Codex Alimentarius is key for us, as it is the global body for setting food safety and quality standards. Adoption of Codex standards into national law is voluntary, but they are reference texts in the event of WTO disputes. And so we've played a key role in the efforts of UK Government in recent years to be more engaged with, and influential in, the process of developing Codex standards including one of the FSA Directors, Steve Wearne, currently serving a three-year term as one of three vice-chairs of the Codex Alimentarius Commission. There are often differences of opinion among the 188 member countries of Codex during the standard setting process, but its emphasis on sound science and consensus helps to create robust standards that can be implemented world wide – providing a basis for trade facilitation rather than trade wars. We would always reinforce those twin pillars of the FSA – operate on the basis of science and evidence, and promote openness and transparency in the consumer interest.
11. Right now, we see several regulatory agencies prioritizing biodegradable packaging as an area in need fo reform. How is FSA tackling this issue, respecting the impact of packaging options on the safety and quality of consumables?
THE FSA absolutely recognises the global challenge caused by plastic pollution and supports efforts to reduce its impact on the environment. We also recognise the vital role that food packaging has in helping to prevent food spoilage and waste, alongside having an essential function in food safety e.g. preventing the contamination of food by harmful foodborne diseases. As a result, food packaging is an essential part of any food supply chain system that protects consumers and ensures that the food they eat is safe.
With the growing awareness and concern about single-use, oil-based plastics in the environment, many across government and industry are working on new solutions, including bio-based, recycled and bio-degradable materials. It is the FSA's responsibility to ensure that these new materials comply with food safety regulations. Legislation already exists that ensures food packaging and other food contact materials are safe but as the pace of innovation increases, it is the FSA's responsibility to ensure that this existing legislation is still effective and that novel materials do not pose a risk to human health. To ensure this, we are also proactively engaged in a programme of work looking at new and emerging food packaging materials, in particular bio-based materials. This has included conducting a comprehensive review of the existing science in this area (this will be published very soon). We have also engaged across government, with agencies who have a role in driving innovation in this field. Through working with the KTN and others, our intention is to support UK innovation in the development and use of novel bio-based materials but also ensure these materials are safe and hence will be trusted by consumers.
12. Follow-on question: More broadly, do you think international — and for that matter, UK standards — have kept up with these new challenges? Please explain.
Food and food ingredients are among the most traded commodities internationally. Keeping up with the pace of technological changes and the emergence of new threats and opportunities to the global food system is a challenge for any regulator or standard-setting body. It's one of the drivers of our domestic reform programme that I've already referred to – having an agile and responsive regime is essential to keep pace with these changes. It's good to see that in the strategic plan for the next five years that the Codex Alimentarius Commission agreed this summer, an acknowledgement that Codex must be capable of being proactive, flexible and responding in a timely manner to emerging issues that impact on food safety and quality with the aim of protecting consumer health and ensuring fair practices in the food trade. We are ready to support Codex in meeting this ambition.
13. GFSF published an article in our last issue of FOCUS, GFSF's newsletter, on food safety challenges presented by the rapid growth in e produce platform sales in China. This trend is not unique to China. What would you identify as key initiatives undertaken by FSA that specifically target the e-produce sector in the UK and for products originating from suppliers outside the UK?
• eCommerce in food is an area of growing concern for us and determining how these businesses should be regulated is a priority. Regulatory authorities face a challenge in maintaining control due to the rate of development, emergence of new technologies and trends and the global nature of the market – any regulatory approach must be responsive to this. The FSA is committed to developing guidance for the regulatory delivery bodies and to working with the sector to ensure that public health is safeguarded, and consumers are protected. We've seen in other sectors that online retailers and suppliers can operate outside the usual national jurisdictions and controls, and can seek to define themselves as merely facilitors of trade rather than active participants. We are clear that anyone online activity involved in the supply of food is within the legislation covering food safety and standard, and therefore the people involved in that activity should understand and fulfil their obligations as food business operators. There's also a critical consumer message – when you buy food in the virtual environment, you need to be more vigilant not less.
14. Right now, we see several regulatory agencies prioritizing biodegradable packaging as an area in need of reform. How is FSA tackling this issue, respecting the impact of packaging options on the safety and quality of consumables?
The FSA is supportive of efforts to improve the use of recycled materials – but all food packaging, whether recycled or not, must comply with safety regulations. We've established an internal, multidisciplinary group review current activity and identify priority areas for us as the food safety regulator. I hope this will become a model for other emerging areas that cut across science and policy, to ensure we too can respond in a timely way.
15. With consumer preference trends continuing to move towards organic products, is FSA setting up new standards and compliance requirements specific to the organic sector? Please explain.
This would be a matter for Defra in England, and agriculture departments in the devolved administrations.
16. In a global sense, how doo you think we can cr3eate/enforce more efficient and consisten food safety standards that make compliance easier to meet, but yet still be strict enough to protect the ultimate end-user (consumers)?
• The FSA already works hard to grow its influence at an international level and has been active in raising international standards in food safety and ensuring the standards adopted are science based. An illustration of this is that one of the FSA Directors, Steve Wearne, is currently serving as a Codex vice-chair. We put effort and resource into working internationally to play our part in developing more efficient and consistent food standards, ultimately to ensure that people can trust that the food they buy and eat is safe and honest.
I hope we can continue to extend the FSA's influence internationally, offering a strong and influential voice on the world stage, and being seen as a world leader in approaches to regulatory modernisation and in food safety. Success in this will help us to deliver our core purpose to protect public health and the consumer's wider interests in relation to food, where we are focussed on ensuring that food is safe and what it says it is, and helping consumers to have access to a healthy, affordable, sustainable diet.