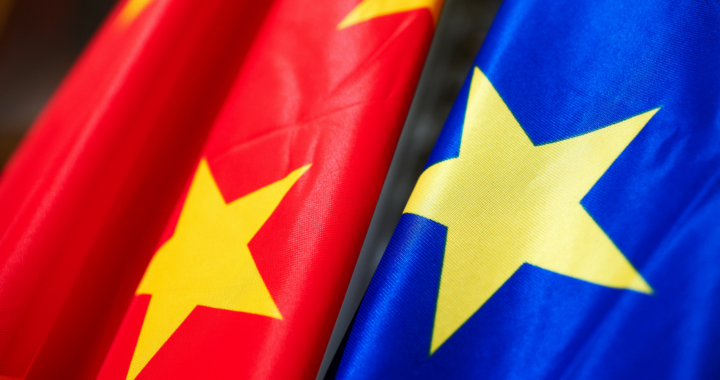 EU and China Jointly Tackle Food Fraud
Yushuang Sun
With the rapid development of food and chemical industries, use of new materials, booming global trade and the resulting complexity in food supply chains, food fraud has become a global issue. Over the past decade, scandals related to adulterated and fake food have made international headlines and generated waves of consumer backlash. Earlier this year, a joint Europol-Interpol operation targeting counterfeit, substandard food and drink, and illicit food trade in 61 countries, including 21 EU Member States, has led to the seizure of 9,800 tons of food and 26.4m liters of beverages, totaling 13m harmful items ranging from everyday products such as alcohol, mineral water and olive oil, to luxury products such as caviar.[1] In China, more than half a million incidents of food safety violations, including false advertisements, the use of counterfeit products and ingredients and the sale of contaminated food products, were uncovered in the first three quarters of 2016 alone. Food fraud has been estimated to cost the global economy over US$40 billion a year.[2]
The best way forward is greater transparency and integrity in food supply chains with an emphasis on global alliances and new technologies. Announced in June, the EU-China-Safe project, coordinated by the Institute for Global Food Security (IGFS) at Queen's University Belfast, comes as a much needed response to these growing demands. Hailed as one of the world's largest food safety projects, this initiative has secured a funding of €10m from the European Union's Horizon 2020 programme and the Chinese Ministry of Science and Technology (MOST), and involves 33 key research organizations, government agencies and industry players[3] needed to jointly deliver an effective, resilient and sustainable EU-China food safety partnership. The overall goal of this project is to develop a shared vision of best practices within these two regions that will improve food safety, combat food fraud, restore consumer confidence, build mutual recognition of data and standards and foster bilateral agro-food trade to promote economic growth. The project was launched in this September and will run till 2021.
Professor Yongning Wu, Chief Scientist from the China National Center for Food Safety Risk Assessment, coordinator of the Chinese efforts in the project, stated: "The EU-China Safe partnership between our two trading regions is of immense importance to help deliver safe and genuine food to all citizens. Working together across China and the EU will enable us to identify where food fraud is happening, address the root causes and thereby enable us to improve food safety standards for all our citizens."
Professor Elliott, the project's coordinator added: "This project will tackle these highly connected issues in a way that will serve to better protect several billion people. There is a pressing need to act internationally in response to emerging threats to food safety and fraud. Working together as a coalition of 33 partners to share knowledge and maximize our technologies will empower the food industry to provide safer, authentic food and will boost consumers' confidence and ultimately facilitate the expansion of EU-China trade."
The program emphasizes on five recurrent food safety themes: legislation, traceability, authenticity, research, and knowledge transfer. The challenges involved in combatting fraud are complicated by the complexities of the regulatory framework. Each country has its own variety of policies, strategies and priorities of national, regional or international provenance that could affect the legal framework pertaining to food control, food safety and food trade. Failure to identify the right agencies, coupled with limited foreign-facility inspections, leaves a gap for fraudsters to counterfeit or adulterate food for financial gains. Against the backdrop, the EU-China-Safe project aims at building the core components for a joint EU-China food safety control system comprising of control management, food legislation, food inspection, harmonization of food standards and food control laboratories to identify best practices.
Food traceability is another focal point of this initiative. A virtual laboratory will be established to identify best practice in technology integration to enhance detection of adulterated products. In addition, two leading tech companies, Cranswick and Arc-net, are contracted to help develop DNA/RFID traceability system by incorporating the state of the art blockchain technology into the supply chain network. Although China has recently outlawed fundraising through initial coin offerings (ICOs), this should not prevent firms from continuing their research into blockchain technology as indicated by the director general of the People's Bank of China.[4] In fact, Walmart has managed to complete a trial using blockchain to track pork in China. Some Chinese e-commerce companies, including Alibaba Group and JD, have also been using blockchain to track the origins of some of their products available on their platforms. However, in spite of the promising outlook, many remain suspicious of blockchain's ability to combat food fraud due to the limited data access and low data accuracy in China.
The initiative also intends to create an EU-China laboratory network with a focus on food fraud vulnerability assessment, food authenticity and traceability technology research. The food authenticity sub-project, led by Wageningen University & Research, involves research into the causes of food fraud and the factors that play a role therein and develops new fraud detection methods. The research zooms in on the most commonly reported food linked to chemical and microbiological contamination and fraud, such as spices, processed meat, baby food, organic vegetables and wine. In addition, the network will also analyze the existing trade barriers between EU and China. Higher level of food safety standards can sometimes be trade restrictive as studies recorded a negative trade effect of higher food safety standards on China's agricultural exports. However, through investments in R&D, analysis of trade barriers and harmonization attempts of food regulations with the EU, China wish to potentially reverse the trade-impeding effect and gain from exporting higher quality agricultural products.
Although China has strengthened its food safety regulation since 2015 by imposing tougher penalties on food tamperers, hiring more professional food safety personnel and doubling the inspection efforts, the country's food safety regulatory framework stays underdeveloped compared to the more established EU framework which emphasizes the role of public-private co-regulation. The EU-China partnership, which fosters knowledge transfer and information sharing, would allow China to learn from the PPP model and improve its private sector effectiveness in assuring standards and co-regulating China's food safety issues.
[1] Press Release, EUR 230 million worth of fake food and beverages seized in global OPSON operation targeting food fraud, Europol. https://www.europol.europa.eu/newsroom/news/eur-230-million-worth-of-fake-food-and-beverages-seized-in-global-opson-operation-targeting-food-fraud
[2] PwC. Food Fraud Vulnerability Assessment and Mitigation. https://www.pwc.com/gx/en/services/food-supply-integrity-services/assets/pwc-food-fraud-vulnerability-assessment-and-mitigation-november.pdf
[3] There are 18 participants from China, including China National Center for Food Safety Risk Assessment, Chinese Academy of Inspection and Quarantine, Beijing Center for Disease Prevention and Control, Jiangsu Entry Exit Inspection and Quarantine Bureau, Shanghai Entry-Exit Inspection Andquarantine Bureau of the People of Republic of China Seal, China Meat Research Center, China National Research Institute of Food and Fermentation Industries Soe, China Agricultural University, Tianjin University of Science and Technology, Zhejiang Academy of Agricultural Sciences, Yangtze Delta Region Institute of Tsinghua University, Ninbo Academy of Inspection and Quarantine, United States Pharmacopeia Standard R&D and Technical Services (Shanghai) Co. Ltd, Danone Asia-Pacific Management Co. Ltd, Nestle R&D China Ltd, Inner Mongolia Yili Industrial Group Co. Ltd, Jiangsu Yurun Meat Foods Co. Ltd, and HongKong Polytechnic University.  15 EU participants include Vysoka Skola Chemicko – Technologicaka v Praze, Bundesinstitut Fuer Risikobewertung, Teagasc – Agriculture and Food Development Authority, University College Dublin, Wageningen University, Joint Research Center of the European Commission, Fundacion Azti, Nofima As, Advanced Research Cryptography Limited, Jochen Kleboth, Euroquality Sarl, Fera Science Limited, Cranswick Country Foods Plc, Nestec Sa.
[4] CNBC. "China banned fundraising through ICOs, but wants firms to research blockchain." Sept. 11th, 2017.